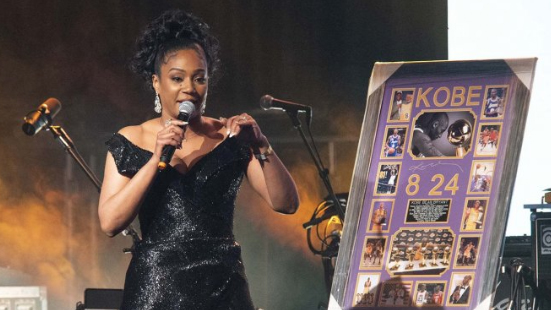 10 Feb

Maroon 5 Performs Intimate Show as Auction Toasts Kobe Bryant, Spago Date with Tiffany Haddish
By Ramona Saviss and Chris Gardner
Party: Bryon Allen's Entertainment Studios Oscar Gala
Players: Byron Allen, Maroon 5, Tiffany Haddish, Quincy Jones, Kenny "Babyface" Edmonds, Raven-Symone, Chris Tucker, Candy Spelling, Loni Love, Russell Peters and more.
Place: Beverly Wilshire, Beverly Hills
Served: Following a formal sit-down dinner, tray-passed sliders, grilled cheese, chicken tenders and French fries.
Inside Dish: For a fourth year, Byron Allen hosted his Oscars watch party in support of Children's Hospital Los Angeles which brought together some of his famous friends to celebrate the telecast while also raising funds for kids in need. Jamie Foxx, who has hosted previous years and was set to take center stage once again, never showed up. Rumors flying around the event suggested that Foxx had the flu leaving healthy stand-ins Tiffany Haddish and Chris Tucker to take the gig.
After attendees filled out Oscar ballots and stuffed teddy bears at the Build-A-Bear Foundation lounge, Haddish took the stage with Allen to lead the annual auction, which, with former Lakers Derek Fisher and Ron Artest in the house, included multiple Kobe Bryant-related items. In speaking about the superstar's recent death, Allen said, "Our hearts are broken into a million pieces — we will always love and protect his family and honor his memory every day," before auctioning off multiple items and plaques with Bryant's signature. At one point Fisher threw in a basketball lesson for 8 young girls in honor of Bryant and daughter Gigi.
At the end of the auction, which raised more than $1 million for Children's Hospital, Haddish auctioned herself off for a date, starting at a very affordable $15 before finalizing a $6,000 sale picked up by a woman. The plan? Lunch for two at Beverly Hills hotspot Spago. "We're gonna have some fun, we're gonna be out in these streets," Haddish joked as Allen, clearly worried about the optics of the star auctioning herself off, said, "I'm not responsible for whatever happens, I want nothing to do with that. I'm so nervous right now."
Carrying the party into the evening, Maroon 5 came on stage for an hour-long set of their hits, with Raven-Symone dancing front row and guests clamoring for the finger foods being passed around. Frontman Adam Levine voiced his support for Children's Hospital and played a rotation of songs "for the kids" and for the older crowd, wrapping before midnight as attendees hit last call at the bar and trickled out. — Kirsten Chuba 
Read the full article from The Hollywood Reporter here.